LE ROI DAVID

Le Roi David is a beautiful but stubborn piece.
Often the score is described as a 'symphonic psalm'.
The music is complex and challenging: the neoclassical style uses elements from both baroque and jazz, and borrows from giants like Stravinsky. The audience is taken trough this biblical story about power and weakness, and the rise and fall of a man.
The circle of life serves as the backbone and makes Le Roi David a tale of all times... Nowadays even the Passions of Bach are staged and the days of mere passive listening seem to have given way to a much more dynamic presentations. This Roi David is just that: dynamic and engaging.

| | |
| --- | --- |
| Musical direction | Chris Pouw |
| Stage direction | Marc Krone |
| Choreografie | Andre de Jong |
| Light-design | Trui Malten |
| Sound | Etienne Loerakker |
| | |
| With | Paul Donkers |
| | Maartje Rammelo |
| | Jan-Willem Schaafsma |
| | Irene Verburg |
Click in the picture to enlarge, use spacebar for next photo.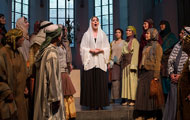 Le Roi David. foto: Mario Bentvelsen m.bentvelsen@casema.nl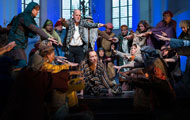 Le Roi David. foto: Mario Bentvelsen m.bentvelsen@casema.nl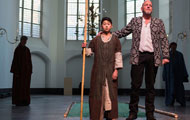 Le Roi David. foto: Mario Bentvelsen m.bentvelsen@casema.nl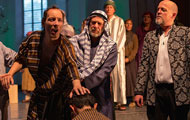 Le Roi David. foto: Mario Bentvelsen m.bentvelsen@casema.nl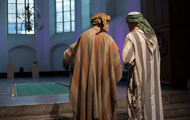 Le Roi David. foto: Mario Bentvelsen m.bentvelsen@casema.nl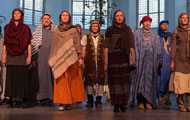 Le Roi David. foto: Mario Bentvelsen m.bentvelsen@casema.nl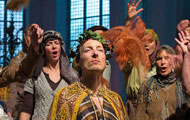 Le Roi David. foto: Mario Bentvelsen m.bentvelsen@casema.nl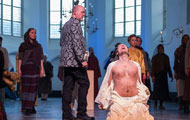 Le Roi David. foto: Mario Bentvelsen m.bentvelsen@casema.nl