Sweet dreams are made of this
Hamburg, 1809.
Trade is flourishing, mainly due to smuggling of sugar, a luxury product in these times.
Napoleons trade embargo against England has made Florentin Schmidt rich. When he is betrayed by Franzi, he returns to his home city: Wunsiedel.
This is where the economy blooms: sugar is the white gold of the time. Florentin finds dubious ways and means of smuggling sugar from his home town and is experimenting with beet sugar, the product of the future.
But the path to riches is a rocky one. Franzi follows him and soon finds herself between love and betrayal.
When the secret sugar factory threatens to be discovered, she appeasr not to be the only one with a motive.
Birgit Simmler wrote this musical based on historically documented material about the city of Wunsiedel, its inhabitants, the gangs, the struggle between families and politics. Embedded in a love story, she outlines the great times that have left their mark on Wunsiedel.
Reviews from Nuremberg Nachrichten and Frankischen Post
To enlarge: click in the picture.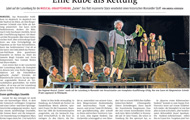 Neurenberger Nachrichten
Frankenpost