BONIFATIUS
Change starts with a dream…
754: an English bishop travels to the rugged land of the pagan Frisians. He'll bring them the truth. It is meant te be his last mission, but on his trip to the far Friesland he becomes despondent about his own conviction. Different dilemmas rise in rapid succession. He must make choices. The beautiful nun Lioba, the cunning bishop Hildegar and Bonifatius' impulsive student Sturmius make things even more difficult. And so his struggle against the pagan Frisians steadily becomes a struggle with himself. And how can he choose between passion, faith and love?
Bonifatius the Musical
is a riveting drama full of intrigue, passion and murder.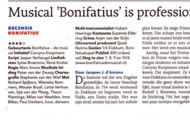 Bonifatius de Musical: recentie nieuwsblad van het noorden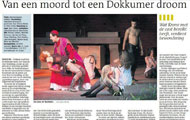 Bonifatius de Musical: recentie nieuwsblad van het noor



Audience reactions:
In one word A-W-E-S-O-M-E! I myself have seen several (Joop van den Ende) musicals but I can honestly say,
Bonifatius the Musical
is of the very highest level! The atmosphere in and around the chapel is beautiful. All in all a must see!
Doesje Postma.
We live near Utrecht and yesterday evening we travelled to Dokkum for the musical Bonifatius. What a wonderful and fantastic musical. In all it's purity, directness and honesty, so grand, great, pure, intimate and overwhelming. Not comparable with Van den Ende production, but in terms of impact just as grand. Compliments to all who have made this happen. Wish you a nationwide
success.
Hanneke